Prepping your home for the Spring Market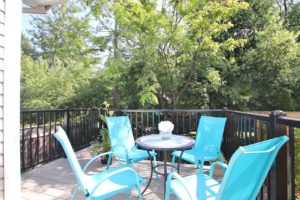 The last thing most sellers want to do is tackle a major renovation before listing their home. This is particularly true of "Downsizers," who may not have the budget or inclination to start a renovation project.  I am regularly asked by sellers to provide them with tips to prep their home to ensure a great sale price and a quick sale.  If you're planning to list this spring, here are a sampling of things to consider: 
Declutter

– When buyers come into your home, they should be focused on the features of your home, not on your belongings. Everyone takes a different approach to decluttering — some like to do it room by room, others by category of item (for example, they begin by tackling their clothing).  Whatever 'action plan' you create, just know that decluttering is one of the best things you can do before listing your home. Pack away items you don't plan to use between now and your move (off-season clothes, holiday decorations, etc), special keepsakes and personal photos.  Give away things you don't use or won't need in your new home – you don't want to pay to move them.  Ensure surfaces (tabletops, dressers, buffets, etc.) are clear. Whatever approach you take, the  sooner you start, the better. 
A fresh coat of paint goes a long way

– Fresh paint makes your house look cleaner, brighter and more move-in ready. Because paint preferences and decorating styles vary, it's a good idea to stick with a neutral palette that appeals to the broadest possible audience. Some popular colours include Benjamin Moore's Revere Pewter, ICI's Meeting House and Canvas Tan by Sherwin Williams.
Focus on the bathroom and kitchen

– There's nothing that turns people off more than moldy grout, missing caulking or stained shower stalls. It takes minimal time to ensure all grout and caulking around your tubs and showers is fresh, your porcelain is polished, the taps, mirrors and floors sparkle, and your appliances are clean. Every bit of elbow grease is well worth the effort.
Complete small repairs

– A broken outlet, a cracked window pane, a leaking faucet, a running toilet, burned out bulbs, a stained carpet. While you see these as annoyances, they are turn-offs for buyers. Do a walk-through of your home, list all the small repairs, and then begin to tackle them, or hire a trusted handyman to fix them, one by one. 
Show off the hardwood

– Buyers love hardwood floors and luckily most homes in our neighbourhood have them. If yours are hiding under wall-to-wall carpeting or linoleum, set them free. Potential purchasers will thank you.
Update carpeting

– The brown-and-orange-flecked carpeting in the basement seemed like a really good idea in the 1970s, but it has had its day. Paint the basement paneling and install a fresh neutral Berber carpet. You will make the basement feel cozy and buyers will see greatly expanded living space.
Don't forget curb appeal

– If you are listing while there is still snow on the ground, ensure that snow is cleared from the driveway, paths are shovelled and salted  — and the dog hasn't marked an amber trail to the door. Keep the exterior tidy and inviting.
Summarize household operating costs

– Buyers routinely want to know the annual operating costs for a property – heating, hydro, water and taxes, for example. Go through your bills and provide a summary of annual costs so that potential buyers have the information they need when making a purchasing decision.
While there are many more things to consider when selling your beloved family home, if you complete this list, you will be well on your way to getting ready for the Spring Market. 
Archives

Categories

Connect