I love living in Ottawa. I was born in Ottawa and, with the exception of a few years following university, have lived here my whole life. I think Ottawa is a great city to live in, to work in, to raise a family in, and (with the exception of a few cold and snowy days) a great place to enjoy retirement.
I am a graduate of Queen's University (Hon.B.Sc), the University of Ottawa (MHA) and L'Institute Catholique de Paris (Diplome de Langue Francaise). Outside of my career in real estate, I have two sons and have volunteered for local schools, charities, Red Pine Camp, various community organizations, ski clubs, and other sports and recreation associations. I have lived in the Highland Park/Westboro area for more than 20 years but my network and client base reaches into every neighbourhood in the greater Ottawa region.
I am an award-winner real estate Broker – in 2022, I was a top 10 Individual Realtor in Ontario and Canada at Royal LePage, and am a proud member of our Chairman's Club which includes the top 1% of realtors in the country.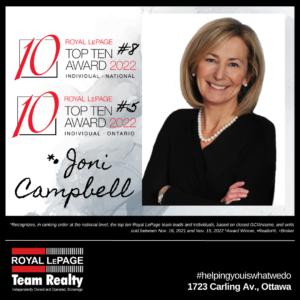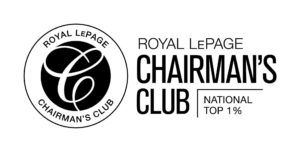 "On behalf of the management TEAM at Royal LePage TEAM Realty, I am very proud to congratulate Joni Campbell on an amazing achievement!! Of the 18,200 Royal LePager's Canada wide, Joni placed #2…Number 2 of 18,200!! This is the highest rank ever by a Royal Lepage TEAM member doing business as an individual agent!!  Congratulations Joni…a well earned and well deserved acknowledgement of your hard work and dedication!!" 
Kent Browne, Broker of Record/Owner
I support numerous community groups, charities and events including the Royal LePage Shelter Foundation. I am backed by one of the best management teams and finest real estate companies in the country. Royal LePage is recognized as a Canadian industry leader in technology and is the fastest growing real estate franchise in Canada.
I believe in providing confidential, personalized service. I promise to work hard on your behalf and will provide you with the most comprehensive real estate service available. I am looking forward to working with you to help guide you through the sale or purchase of a home.
Don't hesitate to call me or text me directly at tel: 613-371-9972 or send me an e-mail at: joni@royallepage.ca