Listing your Home in the Winter:  All I want for Christmas is a "SOLD" sign on my lawn!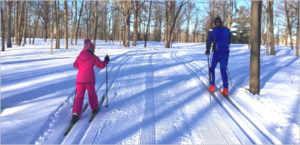 Sellers often ask me whether they should wait until the spring to list their home for sale.  While there is no doubt that the spring market is a popular time to sell a home, there are many advantages to listing your home in the winter.  
First, during the winter months, the listing inventory tends to be lower.  As such, sellers are typically not facing the same competition from other listings.  For Westboro sellers, this can be advantageous because the demand for properties doesn't tend to wane during the winter months: there always seems to be a buyer on the lookout for a new home.  With reduced inventory, buyers may gravitate towards listings that might otherwise be more difficult to sell at other times of the year. For example, a buyer who really wants to be in Westboro might be more inclined to buy a home on a busier street because that is all that is available.
Another advantage to listing in the winter is that the only exterior maintenance that needs to be addressed is snow removal.  Lawns don't need to be cut, leaves don't need to be raked, gardens don't need to be planted. Sellers need only ensure that the driveway and path to the front door have been shovelled, sanded and salted so realtors and buyers can safely access the home.  
Related to timing, in Ottawa, we often have people moving to the city to start a new job in January.  These buyers often come to the city during November, December, and over the Christmas holidays, to look for a home.  Because of our neighbourhood's great reputation, many out-of-town buyers have been told that they should look for a home in Westboro.  These are typically very motivated Buyers who have to buy a home and want their children enrolled in one of our great neighbourhood schools at the beginning of January.  Again, often the inventory is limited so homes that are listed will definitely be on the radar of realtors who have to help someone buy. In addition, I often have Buyers who have incredibly busy jobs and don't have time to shop for a home after work or on the weekend.  These buyers enjoy spending part of their holidays (including Christmas holidays) looking for a house. They can take their time looking through listings, can visit properties in the daylight, and don't have to feel rushed.
From a house-performance perspective, the winter months are a great time to demonstrate that a home is in good shape.  What better time to test a furnace? demonstrate that windows are well-sealed? and to show that the interior is cozy and in good shape for a Canadian winter.  Tasteful holiday decorations, pretty exterior lights, and winter-themed planters on the front porch can make a home look welcoming and charming.
Finally, the winter is a wonderful time to showcase a properties close proximity to winter activities.  Young families love knowing that there are outdoor rinks at Dovercourt, McKellar Park, Tillbury Park and Iona Park.  Dovercourt also provides a great venue for tobogganing and several of the parks in the area have Winter Carnivals. Cross-country skiers appreciate being able to walk to the SJAM trail along the Ottawa River, and love that it is a quick commute up to a launching spot for the trails in the Gatineau Park.
So if you are thinking of selling your home in the coming months, don't hesitate to consider a winter listing.  A "SOLD" sign on your front lawn could make your holiday season "Merry and Bright"!
Archives

Categories

Connect